The Oscillating Woodpecker Index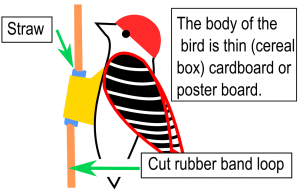 Why doesn't it drop or stop?
Here is yet another clever folk toy that uses science to puzzle and amaze observers. It uses it's potential energy to bob back and forth like a woodpecker. It was redesigned a bit so that even young kids can help make it. The classic version usually uses a tiny spring--as from a pen--but we simply use a rubber band for springiness.